Introduction:
Here comes the 3rd part of the delicious Healthy prison Meal recipes, and those are taking the first glance here I just say a quick small recap.
Prison recipes are the recipes that are made in prison, inside the 4 walls suggesting the tasty Indian recipes and if you didn't see those recipes just have a glance and come, now it's time for the next 3 Healthy prison Meal recipes.
BREAD HALWA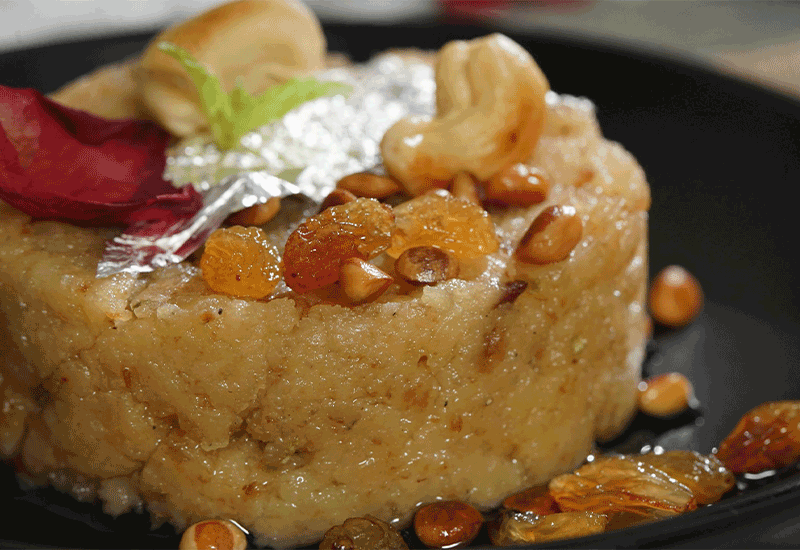 Bread halwa is used for digestive purposes after having a complete Healthy prison Meal recipes, either vegetarian or non-vegetarian. it is rich in carbs that give more energy, it can be swallowed easily, the ghee in the halwa is rich in high-quality fat.
INGREDIENTS
Bread slices(7)
Ghee (3tbsp)
Badam and Cashews (8-10)
Dry grapes (5-6)
Sugar (100 gram)
Water (300 ml)
Crushed cardamom (3)
Milk (1/2 cup)
HOW TO COOK
Take the bread slices and chop them with your own hands into small pieces.
Put it into a mixer and grind well till it becomes coarse.
In a hot pan, pour 2 tablespoons of ghee and add some badam and cashews to it. Fry it nicely and keep it aside.
After that add some dry grapes in the same ghee pan, fry it well and keep aside.
Once it has been done, in the same ghee pan, put the bread crumbs and saute nicely for a few minutes till it becomes golden brown color. After this is done keep it aside.
In a vessel, add sugar and water, stir it slightly and add crushed cardamom into it. Boil it for 5 minutes on low flame and add roasted crumbs into it, saute for 5 minutes on a low flame.
After that add milk into it and mix it well for 5 minutes under a low flame. In a medium flame stir it well till it becomes thick.
Finally add roasted nuts and a tablespoon of ghee. Mix it well and switch off the flame.
EGG PULAO
It is a best-packed food composed of carbs, proteins, and high-quality fat which makes you feel full, reduces your hunger level, builds your immune system, produces high energy as well.
INGREDIENTS
Oil (3tsp)
Chilli powder (1/4tsp)
Turmeric powder (1/4tsp)
Salt – required amount
Boiled eggs (5)
Mint leaves (4-5)
Coriander leaves (4-5)
Chopped tomato (1)
Ginger (2 pcs)
Garlic cloves (5-7)
Green chili (1)
Curd (2 tbsp)
Ghee (1 tbsp)
Cinnamon stick (1)
Cardamom (1)
Cloves (2)
Cashews (6-8)
Chopped onion (1)
Turmeric powder (1tsp)
Chilli powder (1tsp)
Coriander powder (1tsp)
Garam masala (3/4 tsp)
Cumin powder (1/2 tsp)
Water (1.5 cup)
Basmati rice (1 cup)
HOW TO COOK
In a hot pan, pour 1tablespoon of oil, chili powder, turmeric powder, and 1/4 teaspoon of salt. Saute it a little.
Add boiled eggs into that pan and roast them well for a minute on low flame and keep it aside.
In a separate bowl, place mint leaves, coriander leaves, some green chilies, and curd. Grind it well to make a fine paste.
In a pressure cooker, pour 2 tablespoons of oil and 1 tablespoon of ghee, added with a cinnamon stick, cardamom, couple of cloves, cashews, and chopped onion.
Saute it well and after that add the ground paste along with turmeric powder, chili powder, coriander powder, garam masala, cumin powder, and salt of the required amount. Saute it well till the raw smell goes off and add water.
Allow it to boil for some time and add cooked basmati rice into it. Check salt one more time and add it if needed.
Look for one whistle blow in a low flame and mix it well.
The tasty and healthy egg pulao is ready on your plate.
COCONUT BURFI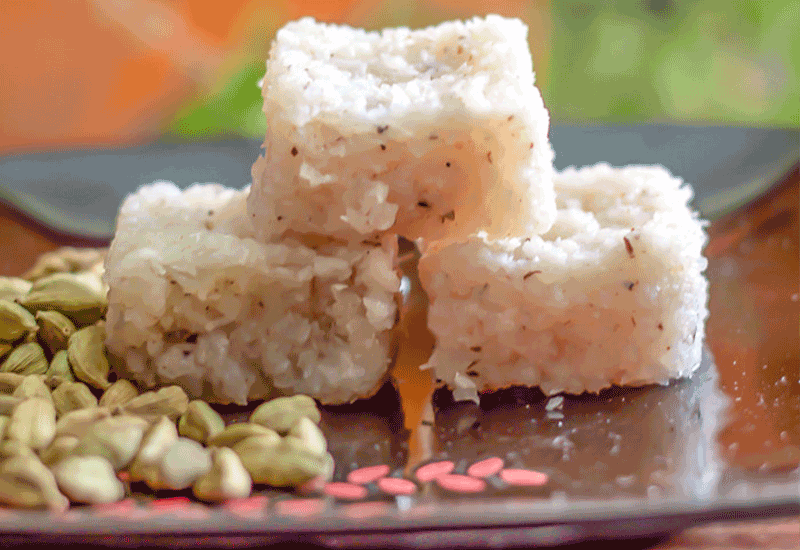 It is a simple snack that needs very little effort and fewer ingredients but is high in taste and health benefits. It protects your skin and makes your face shiner, It helps you to digest the foods well after heavy foods.
INGREDIENTS
Grated coconut (1 cup)
Jaggery (1 cup)
Ghee (1tsp)
Crushed cardamom (3)
Water – 1/4 cup.
HOW TO MAKE
In a hot pan, pour ghee, grated coconut, and crushed cardamom.
Before adding cardamom saute a little and add it, after that fry it out for 2 minutes in low flame.
Once it is done, add a cup of jaggery along with a quarter cup of water.
Mix all the ingredients well and cook on low flame for 20-25 minutes.
Stir it frequently with a uniform force to get the right consistency and rest it for an hour.
Change it to another plate, whereas the tasty coconut burfi is ready to eat.
Main benefits of these ingredients are
They make you feel full.
High in carbs and rich in protein.
Delicious in taste and makes you feel to cook regularly.
Gives more energy and builds a proper immune system.
Plays a prominent role in absorbing vitamins to the major organs in our body.
High in fiber, so that the digestion process for our stomach is easy.