Introduction:
Here we are going to see the recipes of tasty vermicelli breakfasts, so without any delay let's have a look into it.
Vermicelli Upma: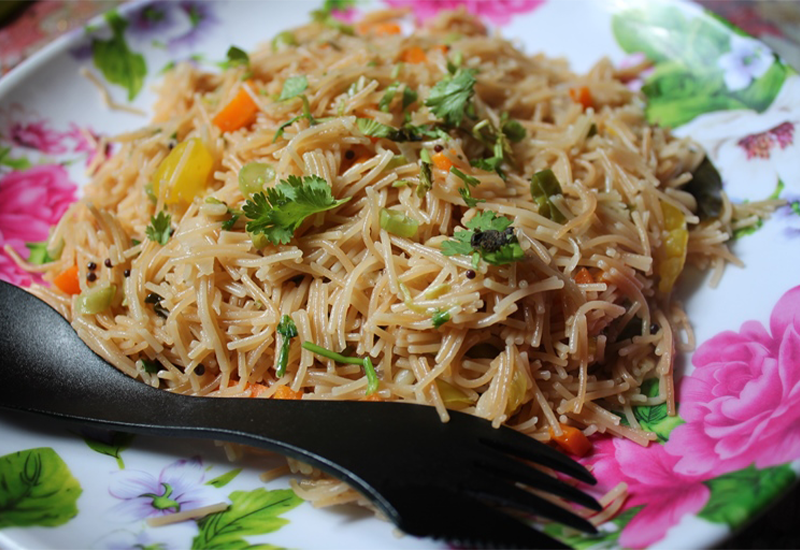 This vermicelli breakfast is best for weight loss.
INGREDIENTS:-
Vermicelli – 1 cup
Oil – 1 tbsp
Cumin Seeds – 1 tsp
Curry leaves – 4
Chana dal – 1 tsp
Chopped ginger – 1 tsp
Green chilies – 4-5
Chopped Onion – 1/4 cup
Chopped carrot – 1/4 cup.
Chopped beans – 1/4 cup.
Chopped peas -1/4 cup
Chopped tomato – 1/4 cup.
Chopped coriander leaves – 1/4 cup.
Water – 1 1/2 cup
Salt (required amount)
INSTRUCTIONS:-
Put the vermicelli in a pan and roast it dry till it forms a brownish color, once it is done keep it aside.
Pour the oil in the pan and along with it put cumin seeds and curry leaves and splutter for 4-5 seconds. After that add some chana dal, chopped ginger, and green chilies into it and saute for 4-5 minutes.
After this, add some chopped onions and carrots and saute them till it gets mingled with each other and form brown color.
Then add beans, peas, and tomato, cook it for 5 minutes. Add water and salt in a required amount, make it boil for till you get the bubbles.
Add the roasted vermicelli and mix it well in a medium flame for a few minutes. Close the top and keep it for some time.
After that add some coriander leaves and you may add some raw lemon juice for bitter taste. You will get tasty vermicelli and it is good for weight loss.
Egg Semiya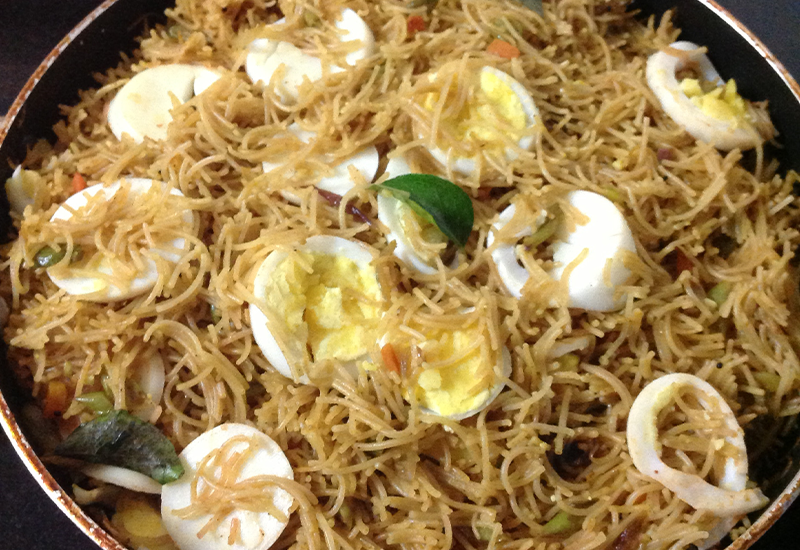 This is one of the best vermicelli breakfasts, high in protein, rich in fiber, and delicious in taste as well.
INGREDIENTS:
Oil (1 tsp)
Cinnamon (2)
Bay leaf (1)
Clove (1).
Cardamom (1)
Chopped Onions (2)
Chopped chilies (2).
Ginger-Garlic paste (1 tsp).
Tomato – 1/2 cup.
Chili powder – 1/2 tsp
Salt – required amount
Garam masala – 1/2 tsp.
Water- 2 cups.
Vermicelli – 1 cup.
Beaten egg – 2
Coriander leaves – 1/4 cup.
INSTRUCTIONS:
In a pan, pour oil and add cinnamon, bay leaf, clove, and cardamom to it.
After that add some onions and saute them well. Once it's done add some chilies, ginger-garlic paste, and tomato and saute after adding this.
Add salt in a required amount, add chili powder into it along with garam masala and saute well for 1 minute.
Add water into it, by that time roast the vermicelli in a dry pan till you attain the brown color and after that add that roasted vermicelli into the pan containing other ingredients.
close the pan till the vermicelli is mixed up with other ingredients and after it gets half-boiled move the vermicelli on one side and add some oil into the pan.
Add the beaten eggs into the pan and wait for 2 minutes. After that stir the egg slowly and once it is half-boiled mix it up well with vermicelli. Close the lid for 1 minute and add some coriander leaves after that.
Finally, the tasty egg semiya is prepared which helps you to give more protein and energy.
RAGI SEMIYA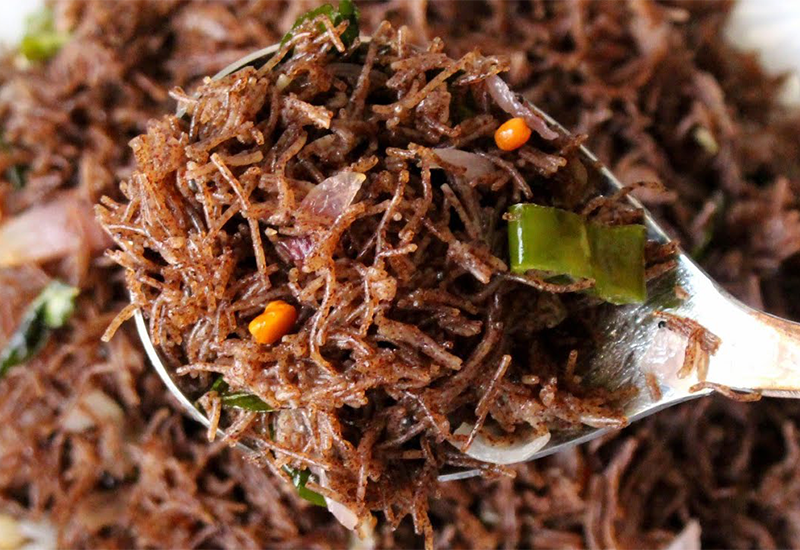 It is rich in fiber that makes digestion easy, and it has high polyphenols which are good for your hair growth as well. It is the easiest breakfast recipe, one of the vermicelli breakfasts that you can make at home with ease.
INGREDIENTS
Water – Required amount.
Salt – Required amount.
Ragi semiya – 3 cups.
Oil – 1tsp
Mustard seeds – 1/2 tsp.
Split black gram – 1/2 tsp.
Chickpeas – 1/2 tsp.
Chopped Onions -1/2 cup.
Chopped chilies – 2. 10.
Curry leaves – required amount
INSTRUCTIONS
In a pan pour water of the required amount and add some salt. Stir it well and after that add some dry ragi into it and leave it for 2 minutes.
Extract the ragi from that water and steam it using a steaming vessel in a medium flame and it has to become soft.
In a separate pan, pour oil and add mustard seeds, split black gram and chickpeas, saute them well.
Boil this ingredient and after that add some onions, chilies, and curry leaves to saute them well, after that add the cooked ragi semiya into it.
Let them boil in the pan for 2-3 minutes on a medium flame and close the lid of the pan.
After that take it from the pan and you will get a tasty delicious ragi semiya, along with coconut chutney it is the best combo and healthy as well.