Introduction:
Winters are just here and all we think about is warmth, comfort, and a large variety of delicious food to keep us warm. And for comfort and warmth, there is nothing like a bowl of soup with some side dishes. A bowl of soup that is rich in flavors is a tasty and healthy option for winter cravings. Winter Soup Recipes is a dish that can be made out of any ingredients. Like putting tomato and jasmine together. Adding some spices and other ingredients, and we have the tomato and jasmine tea soup ready. Winter Soup Recipes serves as a full meal for either breakfast, lunch, or dinner. In winter, you should try super quick soups. Which are made warm from the inner side.
List Of Winter Soup:
Here are some super quick soups with their recipes that you could enjoy in this cool weather to keep you warm.
1. Tomato soup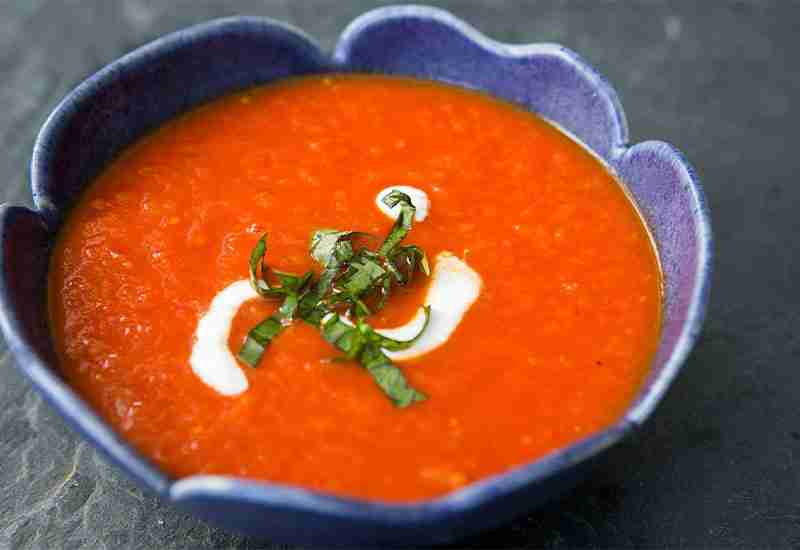 Tomato soup is one of the most loved soups out in the whole world. It is served in almost every restaurant that serves soups. It isn't that healthy, but from a tasty point of view, its tangy and creamy flavor is all that matters. To prepare tomato soup the ingredients we need are butter, garlic, onion, rich zesty tomatoes, black pepper, sugar, heavy cream, water, salt, and crispy bread chunks.
The steps to prepare this delicious soup are:-
Melt two spoons of butter in a container with low steam and make sure not to burn it.
Add a mixture of garlic and onion and stir them for some minutes.
After the onion becomes translucent, add pieces of tomatoes to the pan with a small amount of salt to taste.
Cover the lid for about 5-6 minutes to let the tomatoes soften.
Mix the mixture well and liquefy it. Keep it consistent and add water after regular time intervals.
Once done with the consistency, blend the mixture into a blender. Then remove the hard solid part out and let the soup heat on low steam.
Add 1 tablespoon of sugar and also add black pepper according to taste.
Once done, turn off the flame and add 2-3 tablespoons heavy cream in it and serve it with a small crispy bread chunk.
2. Mushroom soup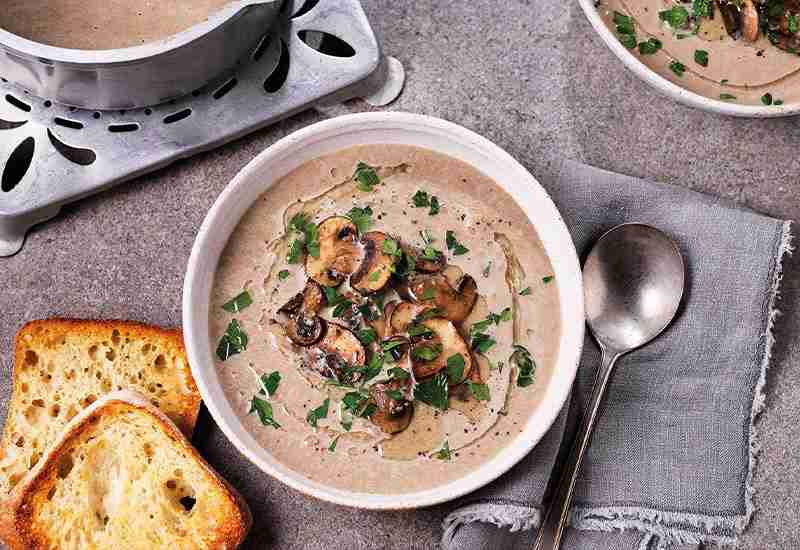 Mushroom soup is known for its tasty flavor that is healthy and made with rich ingredients. To prepare this soup, we need the following ingredients. Which are butter, bay leaves, white chopped mushrooms, salt, water, onion, garlic, whole wheat flour, milk, light cream, and freshly chopped coriander.
The procedure to make mushroom soup is:
Melt 2 tablespoons butter in a flat container and make sure not to overcook it.
Add a bay leaf in a container and then add a mixture of garlic and onion, mix stir until the onion becomes translucent.
Put white button mushrooms into the pan, when you see it releasing water, mix and cook the mixture till the water dries and the mushroom turns brown.
Add 1 tablespoon of wheat flour and some black pepper for taste, mix them continuously.
Now add a small amount of water and mix it well. Later add some amount of milk to it and mix it well.
Mix it well with the addition of salt.
Once the soup starts widening, add 6 tablespoons of cream to the soup.
Add freshly chopped coriander leaves and then enjoy the taste of the hot soup.
3. Chicken ramen soup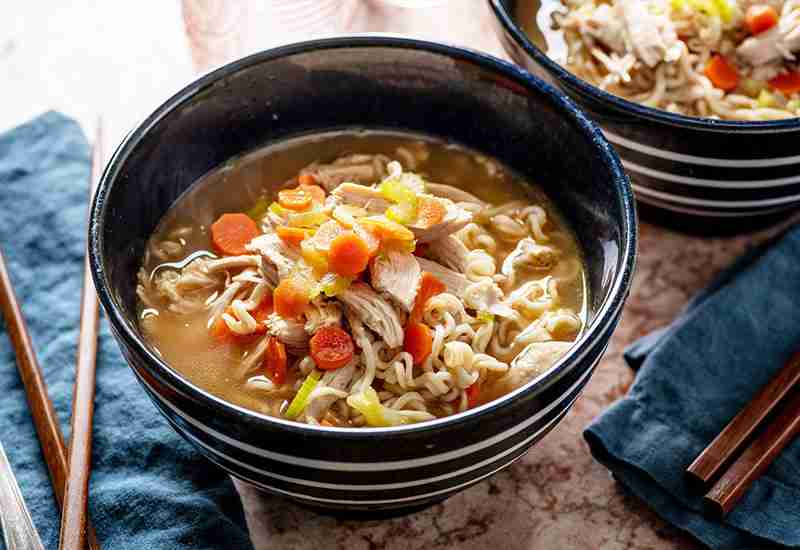 Chicken ramen soup is served with some soda on the side. It is one of the best options for people preferring non-veg. The ingredients which are required to make this super yummy soup. These are chicken thighs, salt, pepper, oil, onion, garlic, chicken broth, carrot, bay leaves, egg noodles, lemon juice, and parsley.
The steps to make this soup are very difficult, but the result it gives is super awesome. These are:-
Heat the oil in a flat container and add chicken to it, cook until it turns dark golden brown for 4-5 minutes. Remove the chicken and take off the peel of it.
To the container add a mixture of onion and garlic and keep it for about 4-5 minutes.
Add chicken broth to the container, boil it, and add the chicken back to the container.
Add the ingredients carrots, celery, bay leaves, and thyme to the container. Slow down the heat and let it cook for 25-30 min until the chicken is softened.
Exempt the chicken out of the soup, and turn the flame add egg ramen to it and, let it cook for 20-22 minutes until the ramen are softened.
Once the chicken is ready to touch, remove the bones from the meat and then chop it to small sizes. Put the meat back in the soup.
Add salt and pepper to taste and serve the hot chicken ramen soup with some soda on the side.
4. beetroot soup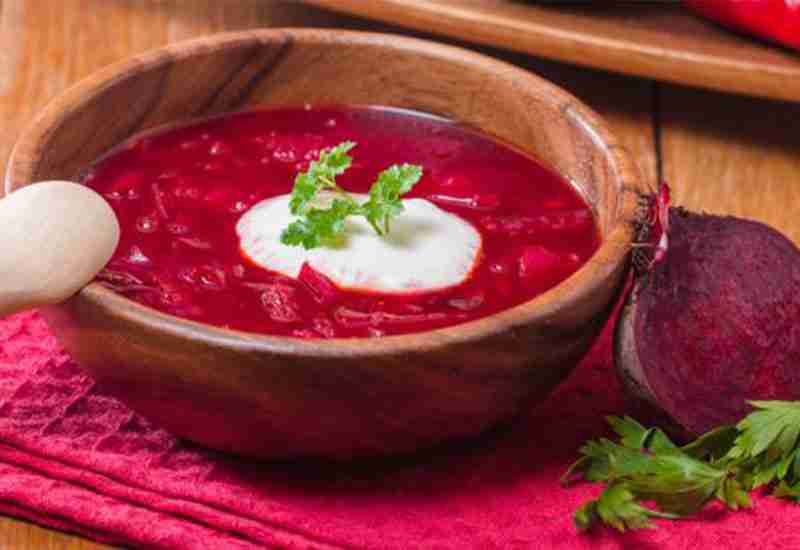 This healthy soup is the best source of iron n and vitamin A for your body. The materials required to prepare this soup are beetroot, butter, cream, garlic paste, black pepper, salt, and water.
The steps to prepare this healthy soup are:
Melt butter in a frying pan at a low flame and add onion to it and grind it.
Once the onions turn translucent, add garlic paste to it and mix it well.
Once the mixture is cooked, add the beetroot to the soup and so well.
Now add the required amount of water according to its consistency as soup. Then later add salt and black pepper to taste.
Add to the cream and allow it to cook for about 2-3 min.
Garnish it with coriander leaves and serve it hot.
Last words:
These are some fresh and healthy Winter Soup Recipes that are very easy to prepare at home and enjoy in this cold weather. These Winter Soup Recipes are these to make and are much delicious. Soups warm the body, but also keep the body healthier. The so, it is said that winters are incomplete without delicious and warm soups.